we have served customers across the Niagara region, Hamilton, the Greater Toronto Area as well as most of Southern Ontario for over 30 years.
Interested in updating your home's exterior and giving it a fresh look? Building your dream home? Selecting the right siding for your residential home is a choice that will pay huge dividends for years to come. Here at Hamblet's, we serve customers across the Niagara Region, Hamilton, as well as most of Southern Ontario for over 30 years. Our experienced team will take your personal design preferences and your unique siding needs into consideration and provide several options that will be sure to satisfy both your aesthetic and functional needs. All of this will be accomplished while completing the project on time and on budget.
Our main focus is delivering exceptional residential siding projects to our customers that significantly increase the appearance of their homes as well as their value. Aside from increasing your property value, renovating your home's exterior siding will not only rejuvenate your home, but the impression it leaves on you and your guests. Throughout every job we ensure that there is a clear line of communication established so as to address any questions or concerns as they arise to provide you with the smoothest renovation experience possible.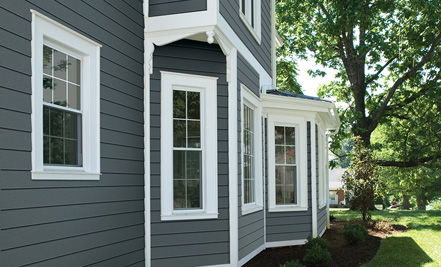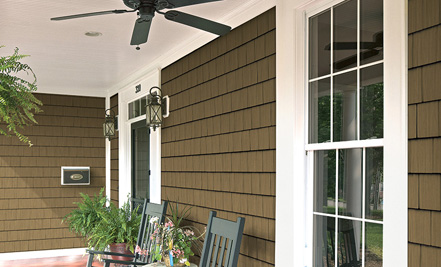 Looking for a specific brand? We offer quality siding brands such as Royal, Gentek, Mitten, Kaycan and Buchner for your renovation project. Interested in learning more? Feel free to stop by our store in Niagara Falls to take a peak and view our samples! Or simply make an appointment and we will bring the show room to you!
Vinyl Siding
Vinyl siding is extremely durable and holds up against exposure salt, pollutants, extreme weather, UV rays as well as scratching or denting. Vinyl siding also has a wide variety of textures, styles and colours to choose from; resulting in a type of siding that appeals to every taste and fashion.
Eavestrough, Soffit & Fascia
Rid yourself of relentless painting and maintenance by replacing your soffit and fascia with solid aluminum. Solid aluminum easily allows for water run-off, under-eave ventilation while adding a new gleam to your home…and the best part is you only need to install it once!
Did you know that the soffit and fascia areas are more vulnerable to weather damage than any other part of your home? Your local neighbourhood creatures such as squirrels, raccoons and birds can cause a significant amount of damage as they typically nest in the space over the soffits if they can find a point of entry. It can also be repeatedly saturated by water from torn shingles, damaged or rusted flashing, ice dams or even a poorly flowing eaves trough.
Expert Renovation and Repair
Has moisture or years of wear and tear resulted in the deterioration of your home's soffit, fascia or eavestrough? Get in touch with our team of experts for the best renovation and repair services available.
We can install a wide variety of products to your residence or commercial building that include:
Siding, Soffit, Fascia
Eavestrough
Leaf Guard
Windows
Steel Entry Doors
Fiberglass Doors
Patio Doors
Garden Doors
Get in contact with us today for a free estimate or assistance on your renovation needs and as always you are welcome to visit our showroom to view product samples.