Hamblet's has been providing the Niagara region with reliable exterior renovation solutions to customers for the past 3 decades and have earned the reputation as the best window installation provider in the Niagara Region.
From enormous commercial window installations where timely installations are of paramount importance to residential projects where the strictest guidelines are in effect and the most fine eye for detail is required. Our team of experienced professionals can tackle any project's unique needs while staying on schedule and within your budget. Our replacement vinyl windows are yet another shining example of our commitment to quality and value to you.
Installing new windows and doors can be one of the best ways to significantly increase the appearance, energy-efficiency and value of your home. However, installing new windows and doors is not only daunting, but also a substantial investment. It's important to know that the more you understand about windows and doors, the more assured you'll be when making decisions about items such as your window type, size, style and brand. That's where we come in! Here at Hamblet's, we prioritize every customer that walks through our door by providing them with over 30 years of knowledge, expertise and experience. We can answer any question you may have…from the benefits of certain window types to various styles that will match with your home to the installation process and everything in between.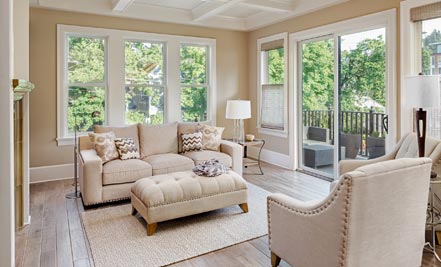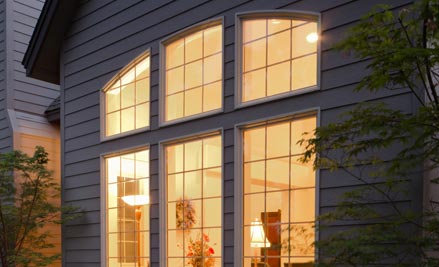 There are a number of reasons for choosing vinyl windows for your home… let's take a look at a few of the major ones and why Hamblet's is the best contractor for the job. The condition of your existing windows is by far, the biggest reason for replacement. They may have become unsuitable for a variety of reasons including, but not limited to:
1.

Ease of Operation

Do your windows lift, slide, or tilt easily; or are they frequently scraping, squeaking and jamming?
2.

Maintenance

Are your windows in need of refinishing, painting or are they labour intensive to clean?
3.

Condensation

Have the seals on existing panes deteriorated resulting in condensation between panes or excessive moisture on

wood frames thus allowing mildew to grow?

Is your home suffering from several or any of the conditions that we just mentioned? Cosmetic appearance, efficiency and new window technology are other fantastic reasons for replacing your home's windows. The right windows are sure to make your living space feel more visually appealing and will allow for better control of your home's temperature. No matter your need, Hamblet's has a variety of options to best satisfy them. Don't want to take on the cost of replacing all of your windows at once? Not a problem! We can replace a select few windows at a time if that better suits your budget.

Please keep in mind that while completing your project in stages is an option, Hamblet's can assist you with financing your home improvement project so that you can complete the entire renovation at once.

Remember that efficiency, style and options all contribute to a window's cost and that if quality windows are installed poorly then they will never function or look as good as they should. That's why it's imperative to choose a team of knowledgeable professionals like Hamblet's for your vinyl window replacement project. Our award winning team is here to make your dream home a reality. Contact us today to get started!