Inspecting Your Home for Hail Damage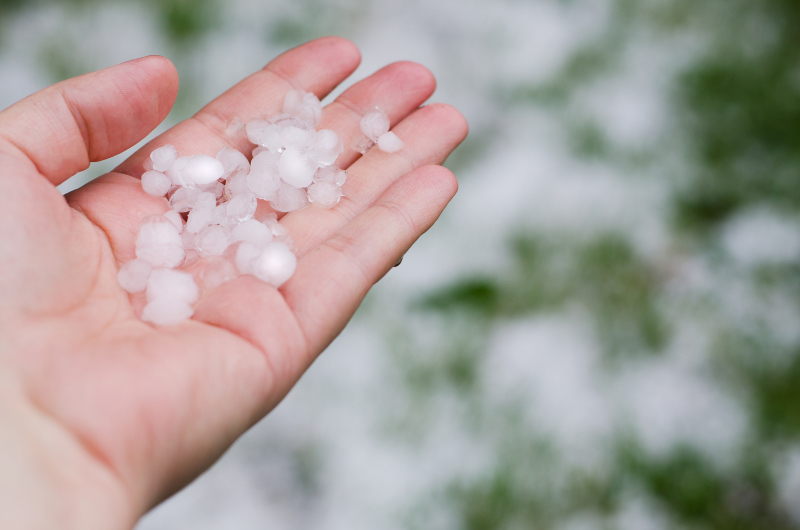 We are truly at the mercy of the weather, no matter where we live. Different types of weather can be a threat to our homes, including the roof, siding, windows, etc. And one result of Mother Nature we should pay close attention to when inspecting the aftermath is hail. After a hailstorm, a professional roofing company can assist with any repairs, however to start the process, it's helpful for you to know what to look for in order to keep your home as safe and secure as possible.
Step One: Wait Until the Storm Passes
In the middle of the worst hailstorm of the season, you heard a loud crash outside. Was it a tree coming down? Your gutter detaching from the house? Lost shingles on the roof? While you may desperately want to know how much damage was caused, it's important to wait until the storm is over to start your assessment. Remain safe inside your home until you're sure that the storm has passed. If there are no obvious leaks or other problems indoors, wait until you're able to go outdoors to assess everything during daylight hours.
Step Two: Check Your Windows
Walk around your house and inspect all windows. Look for any broken glass and check outside for loose casings or anything that has dents, divots, pieces missing, or any obvious damage.
Step Three: Inspect Your Roof
As you're assessing your roof for hail damage, look for missing or broken shingles. Check for dark spots and divots on the shingles. High winds can also rip shingles away or damage other parts of your home. Broken nails and manufacturing defects in shingles, however, are not hail damage and won't be treated as such by your insurance company. Before calling a roofing company, ensure you've determined the cause of the damage and who should be responsible for repairs.
Step Four: Contact a Reputable Roofing Company
If you do discover damage on your roof in the aftermath of a hailstorm, you need a reputable roofing company who will work with you to ensure that your roof is fully repaired. After big storms, you may receive hanging tags or notes on your door noting that you have roof damage and encouraging you to contact the contractor listed in the ad. Unfortunately, these individuals may not have the skills or reputation you need to ensure a quality repair within the guidelines established by your insurance provider. Instead, opt for a reputable roofer with experience repairing hail damage.
Did You Find Hail Damage?
If you found damage during your post-storm home inspection, it's important to repair it as soon as possible, regardless of how small it might seem. Water is sneaky. Give it an inch, and it will gleefully take a mile, causing mold, water damage, and other issues with your home.
If you discovered hail damage to your home after a storm or if you need help inspecting your home for damage, contact Hamblet's - Niagara's Roofing, Siding, Windows & Doors experts to learn more about how we can help with your repairs.
Comments