Serving customers across the Niagara region, Hamilton and GTA for over 30 years.
Interested in freshening up your current home's exterior, or thinking of building your dream home? Selecting the right siding is a choice that will pay huge dividends for years to come. At Hamblet's, we have been managing siding installation projects across the Niagara Region, Hamilton, and most of Southern Ontario for over 30 years. Our experienced team of siding contractors will take your personal design preferences, along with your unique siding needs and provide several options that are both functional and aesthetically pleasing. All of this will be accomplished while completing the project on time and on budget.
Our main focus is delivering exceptional residential siding installations which significantly increase the appearance of a home, as well as its value. With every job, we ensure that there is an open line of communication between you and our team to address any questions or concerns as they arise, and to provide you with the smoothest exterior renovation experience as possible.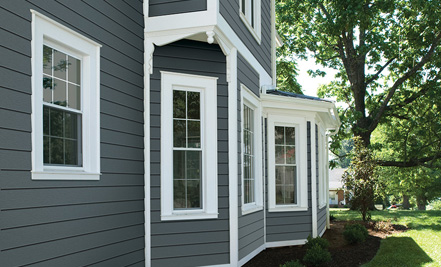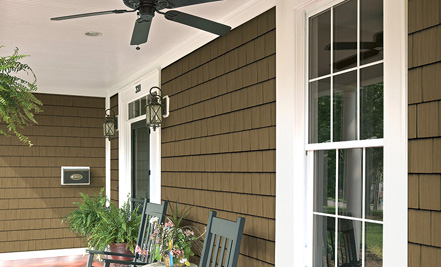 Looking for a specific brand? We offer quality siding such as Royal, Gentek, Mitten, Kaycan and Buchner for your exterior renovation project. Interested in learning more? Feel free to stop by our store in Niagara Falls to take a peak and view our samples! Or simply make an appointment and we will bring the showroom to you!
Vinyl Siding
Vinyl siding is extremely durable and holds up against exposure salt, pollutants, extreme weather, UV rays as well as scratching or denting. Vinyl siding also has a wide variety of textures, styles and colours to choose from resulting in a type of siding that appeals to every taste and fashion.
Expert Renovation and Repair
Has moisture or years of wear and tear resulted in the deterioration of your home's soffit, fascia or eavestrough? Get in touch with our team of experts for the best exterior renovation and repair services available.
We can install a wide variety of products to your residence or commercial building that include:
Siding, Soffit, Fascia
Eavestrough
Leaf Guard
Windows
Steel Entry Doors
Fiberglass Doors
Patio Doors
Garden Doors
Get in contact with us today for a free estimate or assistance on your exterior renovation needs, and as always you are welcome to visit our showroom to view product samples.