Keep out the cold with blown-in insulation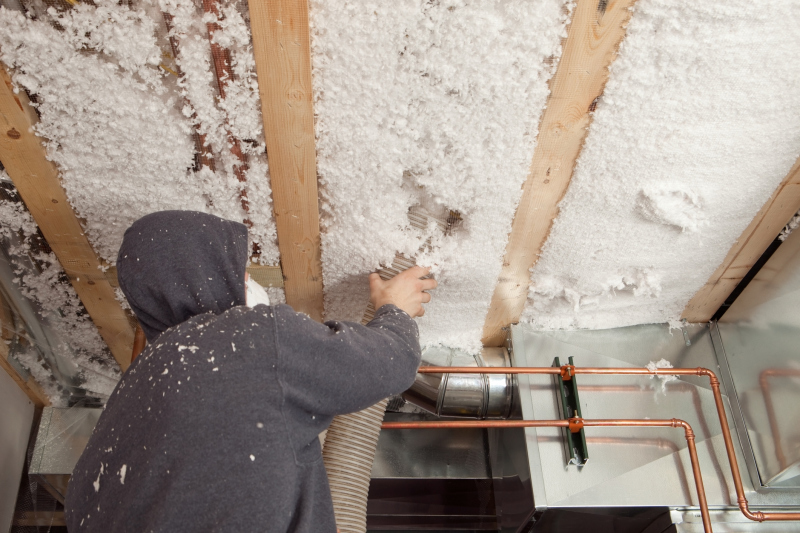 When the chilly days started, Tom noticed his home seemed colder than in previous years. Even after turning up the heat, the cool seemed to continue creeping in. He knew he couldn't keep turning up the heat, as winter approached the energy bill would become too high. Instead, he looked around his house and discovered he was losing a lot of heat through his walls and attic. The problem is he had no idea how to fix it. Fortunately, a friend told him about blown-in insulation, and how it could help keep his house warmer and save money on his energy bill.
How Does Blown-In Insulation Work?
Blown-in insulation is a way to cover all of the small openings that allow cold air into your home, such as those found around joists, pipes, and other holes caused by construction work.
A professional insulation technician begins by doing a survey of your home and determines the areas that require insulation. Blown insulation is then distributed into those areas, sealing out the cold air and keeping the warm air inside. The best part of blown-in insulation is it seals very small and hard to reach areas inside attics. It also works just as effectively during the summer, keeping the warm air out and the cool air inside.
Blown-in insulation is perfect for older homes that weren't constructed with today's insulation technology. Adding insulation panels to older homes is destructive and costly, making blown-in insulation the better alternative. It's less intrusive because the insulation technician doesn't have to remove walls, or haul rolls of bulky insulation through your home.
Overall, blown-in insulation makes your house more comfortable and energy efficient year-round!
What is the insulation made of and is it safe?
We get these questions all the time, and it's understandable. We're homeowners too, and we only use material and procedures that are safe for everybody in your family. Blown-in insulation is made of cellulose, an excellent and safe material for any residential home. The insulation is installed through state-of-the-art blowers that keep the loose material enclosed until it's blown into the correct space.
What can I expect with the installation process? Will it create a mess in my home?
The installation itself is very clean. The insulation is blown into the attic through airtight hoses, so it only goes where it's supposed to. The material is light but not so light that it remains permanently air-borne. It will settle quickly and remain where it's been installed, meaning you don't have to worry about breathing in insulation as you walk through your home. When the work is done, a professional insulation technician will clean up any mess they may have created.
If you would like to learn more about Hamblet's insulation services, call us today. Since winter weather is here in Niagara, we encourage you to make the call sooner rather than later!
Comments