Some Much Needed Sunshine: The Benefits of Skylights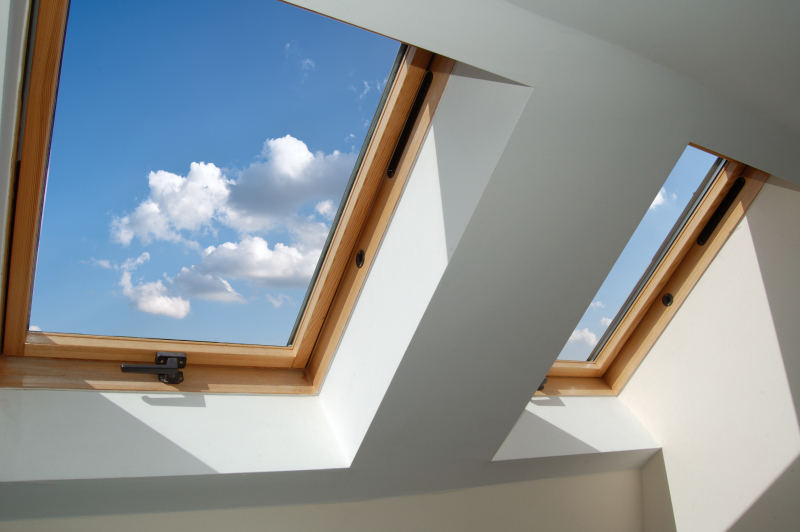 On long winter days, or cold moonlit nights, a little extra sunshine (or moonshine) can have some positive effects on a person's disposition. Whether it's indoors or outdoors, people thrive on light; and it's even better when it's natural light.
Since this is a well-known fact, many homeowners have taken the step of installing skylights, or sky tunnels. Many have found this to be an eco-friendly and relatively straightforward way to bring a little more natural light into their homes. Sometimes even cloudy days are brighter than we think; so why not use a skylight to harness some of that sunshine?
Still, many wonder: "What are the different types of skylights? What are their benefits? And what factors should I consider when deciding whether to purchase and/or install a skylight?" Let's discuss the answers to those questions.
Types of Skylights
There are basically three types of skylights, with many sub-varieties, including:
Fixed skylights. These are installed as permanent fixtures in the roof or ceiling, and do not provide ventilation. They are often covered with a durable plastic casing or dome. At certain angles, they can provide dramatic views of the surrounding scenery.
Tubular skylights. These skylights are narrow tubes that can be inserted into areas of the house above smaller enclosed spaces, such as hallways or closets. The top sections of tubular skylights actually direct natural light through a reflective tube, and at the other end this allows a diffused glow to radiate throughout the room. Tubular skylights are relatively easy to install, and often can be adjusted to provide the desired level of light. The VELUX line of Sun Tunnels would fit into this category.
Vented skylights (or roof windows). These skylights allow homeowners the option to let in the fresh air as well as the sunshine. They can be opened and closed either manually or electronically. This is an option many homeowners utilize in areas subject to high humidity, where moisture-related problems are prevalent. A vented skylight allows homeowners to "air out" the room, and thus prevent mold buildup and other issues.
The Benefits of Skylights
Skylights can have several benefits, both aesthetic and practical.
Skylights increase energy efficiency, by naturally warming homes. If you are a fan of lowering your electric bill, then no doubt this benefit sounds like music to your ears!
As mentioned above, vented skylights can help reduce, prevent, or eliminate moisture-related issues in humid areas.
Skylights can make a home feel more "open," and can help stave off cabin fever when you're stuck in the house for long periods of time.
Skylights allow moonlight to come in on some nights and allow star-gazing from the comfort of your own living room or bedroom on others.
High Quality Work
When deciding to purchase and install skylights, it's important to do your due diligence. You want to buy from a reliable supplier, who has a reputation for manufacturing well-made, durable products.
Also, when considering whether to make your skylight installation a DIY project, it is important to count the cost first. The last thing you want is to be stuck on your roof patching up a 10-foot hole because of a miscalculation.
At Hamblet's, we have 30 years' worth of experience in installing skylights, as well as in working with roofs, siding, and window treatments. We provide professional, high quality work at reasonable pricing. If you want to let some much needed sunshine in with new skylights, contact us today for a free estimate.
Comments